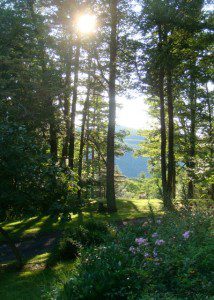 Matagiri is a spiritual center dedicated to Sri Aurobindo and the Mother's vision of an evolving humanity.
It is a place of solace for seekers to rest in beauty and serenity and to make progress in their integral yoga.
Matagiri collaborates with the Sri Aurobindo Ashram and Auroville through the distribution of books, hosting visitors and educating through workshops and cultural events.
A SHORT HISTORY
Matagiri (Mother's Mountain from the Sanskrit)  was founded by Sam Spanier and Eric Hughes. The Mother blessed the name and symbol on August 2nd, 1968. The property compromises 44 acres up a wooded mountain outside of Woodstock, NY. Over the years dozens of people lived as part of a residential community. Sam died in 2008 and Eric in 2016. Julian and Wendy Lines are now the stewards in residence.
Matagiri had a thriving business importing incense from the Sri Aurobindo Ashram Cottage Industries and stationary from the Handmade Paper  factory.
For many years Matagiri published "Collaboration" a newsletter  (now published by the Sri Aurobindo Association) distributed widely in the US and abroad.
Matagiri welcomes visitors to its bookstore, art gallery, library and meditation room by appointment. Please call us at 845-679-8322  if you would like to visit. We have a regular reading and meditation  Thursday evenings at 7:30 pm.
Please check the events page for special programs.
Matagiri is a source of books from the Sri Aurobindo Books Distribution Agency (SABDA). Many titles by Sri Aurobindo, The Mother and disciples are also available at the boutique Pondicherry in Woodstock which also handles mail order sales.
Matagiri Sri Aurobindo Center, Inc. is a 501 (c) 3 religious nonprofit organization. Donations are tax deductible and welcome. Please see our "Donate" page for details.